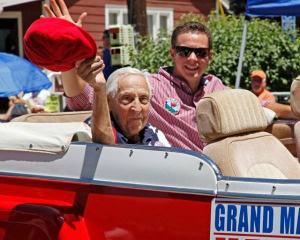 GRAEAGLE'S great visionary is gone but will NEVER be forgotten.  He will remain in the hearts of this community forever!
Harvey Edward West, Jr. passed from this life at St. Mary's Hospital in Reno, NV on April 26, 2011.
Harvey was born on October 18, 1922 in Santa Clara, California.  He was the oldest of three boys (David and Robert, brothers) born to Harvey West, Sr. and Leila.  Harvey had a typical boyhood life growing up on the Santa Cruz coast (Soquel), fishing, playing baseball and enjoying the fun at the beach Boardwalk and the "Plunge" pool whenever possible.
The family later moved to Camino, (Placerville) CA where they operated several lumber mills:  Smith Flat, Fresh Pond, Sly Park and Tahoe Valley.   At this time, Harvey attended El Dorado High School in Placerville and graduated in 1940.  He enrolled in Sacramento City College when he joined the V-12 program for Officer's training and then attended College of the Pacific (now UOP) in 1943.   He was one of four students that were sent to Harvard Business School for the Naval Supply Corp school program.  In February 1945 he was assigned his first ship, the U.S.S. Auriga and remained in the Navy for several years.
After the war it was a busy life for a timber man, working for the family business, Placerville Lumber Company with his father, Harvey West, Sr. and brother Robert.  Harvey was often seen cruising timber, driving logging trucks, managing the mills, and negotiating timber and lumber sales.  It was in August 1950 that Harvey married his sweetheart, Shirley Devine.
In 1957 Harvey, along with his brother Robert, came to Graeagle to investigate the holdings and timber of the former Box Factory, owned at that time by the California Fruit Exchange.  The West family purchased Graeagle from the California Fruit Exchange — and the real work began.  He moved his family to Graeagle and along with his wife Shirley and their (then) two children, Deborah and Dan settled into one of the large red houses on the hill.   It was 1958 and Graeagle was a virtual ghost town.  There was no running water, no electricity and only a handful a people remained as residents.  More than fifty years later – the community of Graeagle is the result of his vision, his commitment and much hard work.
Harvey enjoyed several passions; special to him were golf, baseball and fishing.  He made many trips with friends to his favorite fishing spot at Butte's Bar on the middle fork of the Feather River. Baseball was a serious sport in his youth – Harvey played first baseman ("stretch") for his father's AA baseball teams, the Pacerville Bartletts and the Outlaws.  He had the ball diamond rebuilt in Graeagle so that everyone could enjoy baseball, softball, and soccer as they still do today.
Golf was one of Harvey's early and serious passions.  As a young boy he caddied at the local golf courses near Santa Cruz and grew up with a genuine love and respect for the game.  It was in 1964 that he pursued his dream and began work on the 18-hole championship golf course, Graeagle Meadows.  Many will recall watching his ease of swing and giant smile whenever he was on the course.
Harvey was a civic-minded man and his leadership went far beyond just the local community. Early on he was a member of the El Dorado County Sheriff's Posse.  After they moved to Plumas County and during the development of Graeagle, Harvey served 19 years on the Plumas County Planning Commission, and founded the Graeagle Volunteer Fire Department where he remained active in the department for more than 35 years. He was a Portola Rotary Club member and past President, and a proud member of the Free Masons for more than 50 years, attending the Hope Lodge in Beckwourth. Continuing his passion of sports, Harvey coached Little League Baseball, supported and donated to the Johnsville Ski Hill, and promoted and encouraged Jr. Golf for the local schools. He was proud to serve in the Navy during World War II, and remained in the Reserves for many years thereafter.
Harvey West, Jr. is survived by his loving wife Shirley of 61 years, their daughter  Deborah West and her children Morghan and Michael; son Daniel and daughter-in-law Leah West, and their children Lindsay, Mallory and Harvey West, III (Trey); daughter Deidre (Dede) and son-in-law Trace Robbers, and their children Hailey and Lauren; and son Darren West, as well as one great grandchild, Tallon Vanetti.
Harvey West, Jr. is an icon in the Graeagle community. He will be remembered for his long gait, quick wit, and his unyielding sense of integrity and honesty. As a true pioneer of Plumas County, he often told his family and friends that none of this would be possible without the love and support of his wife, Shirley, and their children.
"He was a man whose rich values, compassion for all and incurable optimism    were infused, every day, into this very special community known as Graeagle over the past 50 years.   The West family, their children and grandchildren are the legacy that will carry this community into a bright, well planned future."
In lieu of flowers and in memory of Harvey E. West, Jr., contributions can be made to the Graeagle Volunteer Fire Department and would be greatly appreciated.   (P.O. Box 64, Graeagle, CA  96103)