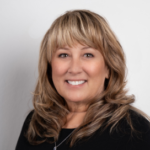 Sales Associate, Realtor®
Terry Collin joined GRAEAGLE ASSOCIATES, Realtors® in January 2018, as a real estate agent. She helps homeowners list their property, and buyers secure a home that suits their budget and goals.
Terry is a lover of the outdoors; she rides motorcycles (dirt), side-by-sides and loves boating, kayaking and canoeing too. In 2016 Terry and her husband Nick took a 2-month adventure and drove to Alaska through Canada and the Yukon Territory. A trip of a lifetime left Terry and her husband with wonderful memories.
She has worked in the medical field for most of her career, as a patient advocate and helping patients understand their benefits and working with the insurance company to pay the patients' claims.
Terry looks forward to turning a new page of Real Estate in her life; she's full of ambition and willing to show clients and potential clients the secret delights of the Lost Sierra, Lakes Basin and beautiful Graeagle as well as the surrounding areas, and will introduce you to a lifetime of Graeagle memories. You can expect a respectable transaction with Terry, so come by to meet her.
Email Terry at: Terry@GraeagleAssociates.com
Contact me anytime on my cell phone#: 775-901-3287